Andromeda Acolytes 2022 Kickstarter press kit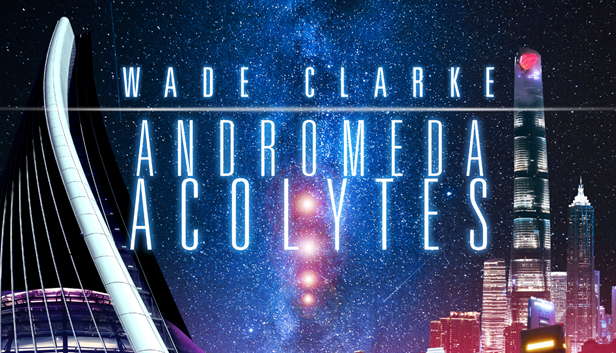 Andromeda Acolytes is a multi-chapter sci-fi text adventure set in a young galactic colony still discovering its identities.
In the Andromeda Galaxy, humanity doesn't know why it is on the planet Monarch or how it got there. When an underwater accident in Monarch Harbour awakens a strange power, four very different women are drawn into each other's orbit, and into a race towards the mysteries of Monarch's origins.
Taking the role of all four heroines, players will negotiate underwater mechs, AIs, abandoned cities, crime, friendship, suspense, horror, humour, an art exhibition, virtual realities and a tank. This is a prose gaming experience offering all the inner-world power of a novel plus the fine-grained world and puzzle engagement of gaming. The only graphics are in the automap.
Andromeda Acolytes will join the Andromeda universe of text adventures that was begun by Marco Innocenti in 2011's Andromeda Awakening. It won't be necessary to have played any of the other games (there are five available by four different authors) before playing Andromeda Acolytes.
Tutorial Mode
* Never played a text adventure before or want help anyway? Start Chapter 1 in Tutorial Mode
Unlockable Chapters
* Start playing from any chapter you've previously cleared. Good for revisiting your favourite bits or trying new actions / solutions / dialogue choices
Customisable UI (because reading all this text had better be comfortable)
* Resize the game window where and how you want it
* Change fonts, zoom levels and margin sizes
* Choose from amongst a number of themes, including system-respecting dark and light
* Toggle the graphic automap on or off, zoom it in or out, and switch it amongst two sizes and four onscreen positions
Accessibility
* A Screen Reader Mode cleans up output for screen readers and SPELL command will give a spelling of any name
* The LIST command will show you all currently interactive features in your location
* GO TO any person, place or thing the current PC has seen during a chapter
* Get HELP for game commands right in the game window or via the pop-out Commands Reference Card
Heiress Software is Wade Clarke's interactive fiction label. Its first release was the 2015 horror adventure Leadlight Gamma.
Wade got started writing text adventures on the Apple II+ computer in the 1980s and 90s. He returned to the genre in the 2010s with the games Leadlight, Six (which came 2nd in the 2011 Interactive Fiction Competition), Leadlight Gamma, and the Music Room section of horror mega-adventure Cragne Manor. Andromeda Acolytes will be his second commercial game. Wade also produces electronic music as Aeriae and is the creator of the zillion-times-forwarded cartoon Find X. He has written more than 170 reviews on the Interactive Fiction Database.
---
---
Newsletter
To sign up to my newsletter and receive infrequent updates on all of my projects, please fill out the form below. Re: Your Privacy, my newsletter is powered by the Mailchimp service. Data you submit goes only to me, Wade Clarke, and is not shared with anyone or anything else. At the following link you may read Mailchimp's privacy policy as it regards newsletter subscribers.